I am a young woman of thirty-three. Being a writer, and an artist, and dare I also say, an aspiring entrepreneur, (because I would love to be able to work for myself) You would think that I was very 'in touch' with my fashion. I do very much enjoy treating myself to a new dress, a new top, new pair of shoes every once in a while, but I don't tend to go too overboard on what I purchase. So I am not your typical 'fashionista' really. I have always had this thing about saving money. If I see something I want to buy, whether it be a top, or a bag, make-up, it's a treat and I have normally saved up for it. It's just the way I am. It certainly keeps me from letting my savings get too out of control anyway.
Like everyone, I have my favourites when it comes to celebrities and what they are wearing. I follow loads of actresses on Twitter and Pinterest, but right now, I would like to share with my top three favourite actresses who not only do I think all do incredible work on the big screen but off screen I have also begun to admire their fashion styles as well. Of course I have been adding them into my own Pinterest collections as I am hoping that they will help me in influencing some of my own personal fashion choices too. Providing I like them and they fit and I don't look like, you know, like no one owns me or something.....
Anyway....These are my current celebrity style icon favourites. In reverse order:
3) Keira Knightley.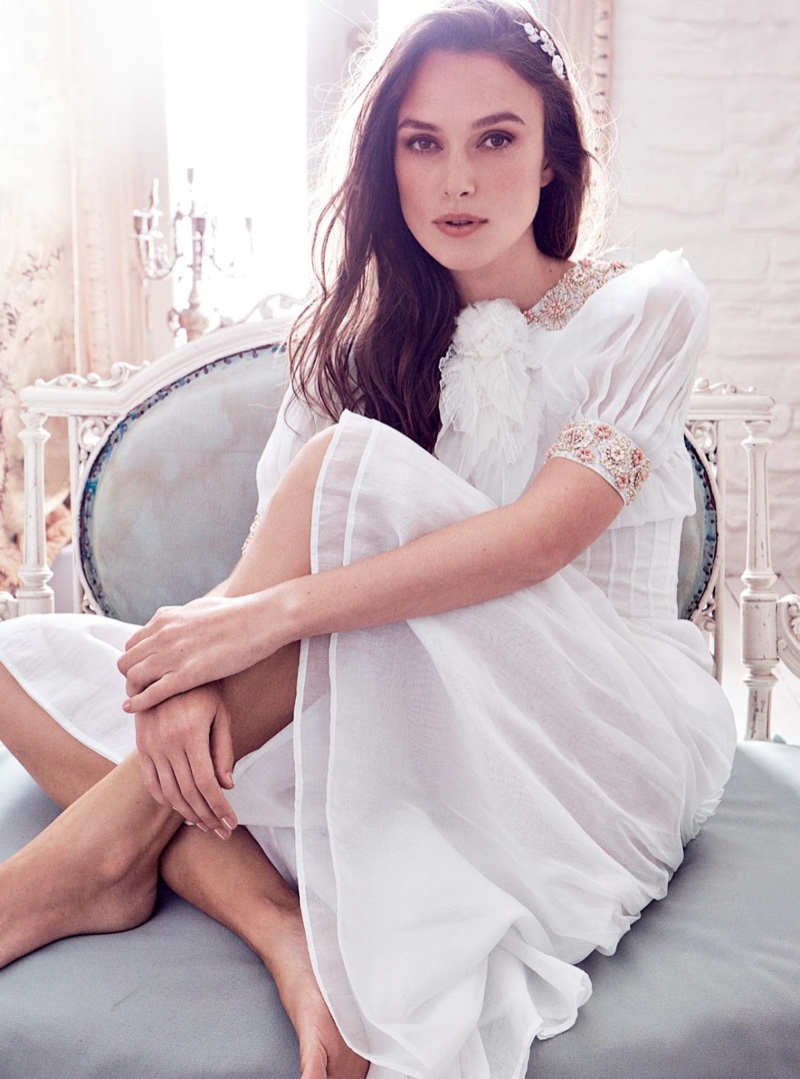 I grew into being a big Keira Knightley fan following on from the huge success of the first Pirates of the Caribbean movie, and subsequently the movies that followed. However, to be honest, my favourite movie of hers is actually Pride and Prejudice. I absolutely love that movie. It's so romantic! I have seen a few other actresses play the part of Elizabeth Bennett in TV shows but the way Keira Knightley portrays her is totally the best I've seen.
What I love about her fashion style is her ability to totally 'pull off'' the 'lace and frill' style. Even if it has a collar. Also what I noticed, is Keira Knightley is one celebrity who I genuinely think really suits the colour white or cream. Not every actress can make a statement wearing a simple white lace dress, but she can. I also love how she wears her eye make up as well because she defines her eyes really nicely, and it always seems to compliment her hair colour too.
Some of Keira Knightley's fashions can be a bit too simplistic at times in my opinion, but she always does look lovely.
2) Lily Collins.
Lily Collins is a fairly new addition to my personal fashion following. I remember the first movie I saw her in which was Mirror Mirror, and I recall thinking how perfect she was to play the character of Snow White, purely because she reminded me exactly how Snow White looked in every picture of every children's book of the tale I had read when I was little. She was perfect.
Another reason I love Lily Collins so much is because she has an eerie resemblance to Audrey Hepburn. I don't know if anyone else has had similar thoughts about that? I think she really does look like her, and I love Audrey Hepburn. I have always loved her style. If anyone should play her in a movie I seriously think Lily Collins should be considered for the part.
What I love about Lily Collins' style is actually split into three parts for me. I love the types of shirts and blouses she wears, all different colours and they really do suit her. With dresses I find she most definitely looks amazing in any dress she wears, but not everyone can look as amazing as Lily Collins does in a floral dress! I love the floral dresses that she wears. and I will not deny it but I would love to own most the dresses she wears too. And when you look at her, it is like she reminds me of a style icon from the 1960's. Or even further back than that, like the 1930's. That is what I love about her. She is just exquisite.
Lastly, my favourite celebrity style icon.....
1) Emma Watson.
Perhaps it is unsurprising that actress Emma Watson is my number one, considering how popular I find she is, with her 'He For She' campaigning, and being a Goodwill Ambassador and supporter of Women's Rights etc. I genuinely admire her for her courage and spirit to fight what she believes in. I think it is very commendable.
What I really love about Emma Watson is I find she is very sophisticated, and her fashion style is a perfect reflection of that trait.
When it comes to her fashion style I think she really suits a one, or two colour design dress or suit, as opposed to say a something that is striped or floral. That is my opinion anyway. Emma Watson has a natural beauty. She has that 'girl next door' look about her. I love how she is so natural about the way she looks, and how she can still go from natural to elegant, simply by wearing her hair different or changing her lip colour. I think she can so easily transform herself. I love it. I have also noticed how she is one of the few celebrities who looks amazing when she wears any type of shirt as well. Casual or smart. I love her sophisticated look, and that sort of style I see on her definitely inspires me when I think of my own style because I too love to wear shirts. I think they suit me as well.
Emma Watson is my number one celebrity style icon because she never goes over the top with her fashion, but she always looks unique and smart, and I love to scroll through Pinterest to find out what different types of outfits Emma Watson is wearing, because already she has given me tons of ideas on how I could style myself.
Thanks for reading.
Sarah x